Being a 'junior' in the world of aviation, I quickly realised that Eric Gould had a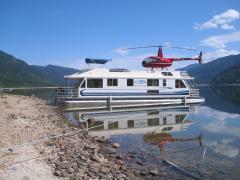 reputation throughout the heli-industry in Northern Alberta. As I grew to know him, I respected his opinion due to what he had accomplished in his lifetime and due to the success of the company he had built. I worked towards the purchase of my aircraft for years and I received a lot of valuable direction and advice from Eric throughout that time. I purchased my company's new Robinson R44 Raven II in November of 2009. I chose this aircraft for it's safety, efficiency, comfort & size, reliability and relatively low maintenance required. I feel that the R44 Raven II offers exceptional value that can't currently be competed with for the price point. I was not endorsed on R44 when I went to the U.S. to fly it home from Torrance, California, USA to Airdrie, Alberta, Canada (and then finally up to Grande Prairie, Alberta). Eric lined me up with Marty Charbonneau, an instructor who I flew back and completed my endorsement with. The experience was nothing short of an experience of a lifetime.Eric's efforts made the purchasing and import process into Canada extremely smooth and he was constantly available to lend support if we needed it along the way. Owning this helicopter is an absolute dream for me and I can't express this in any other way.
-Jared Cianfagna,
Lead Oilfield Consultant & President
Remote Energy Consulting Ltd.