2015 R44 Raven II – SOLD
$
Year: 2015

Manufacturer: Robinson Helicopter

Model: R44 Raven II

Serial Number: 13801

Total Time: 350 hours

Condition: Used

Location: High Level

Engine: IO-540 Fuel Injected

Exterior Color: Red Pear Metallic with Medium Gold Metallic Trim

Interior Color: Gray Leather
---
Overview
Now SOLD!
This aircraft is located in High-Level Alberta.  This helicopter has basic instruments and is equipped to go to work.  It has been privately owned and operated since new. It is a great looking helicopter with very few hours on it.  Having a light helicopter with the hook will be beneficial to the commercial operator or the private operator that doesn't need all the extra bells and whistles.
It has been maintained to a commercial standard even though it is being operated privately.
I don't expect this helicopter to be around for long as the owner has two helicopters and only needs one.  Therefore both are for sale and he will keep the one that doesn't sell.
Time remaining:  The full overhaul will be due in 1850 hours.  The 12-year inspection will be due in the year 2027 if the hours are not used by that time.
Features
Exterior Color: Red Pearl Metallic
Trim: Medium Gold Metallic
Interior Color: Grey Leather
Cargo Hook
Windshield and doors tinted
Vertical Compass Card
Kannad 406 ELT
Dart Bearpaws
Dart Cargo Mirror
Floor trays
Full Tannis Heater kit
Ground handling wheels
Mount for Pods(provisions) but no Pods included
Bubble cover
Forward fire extinguisher
Dual Controls
Dart winter baffles
Seat Covers
Avionics
Garmin GTX327 Transponder
Garmin 225 Comm Radio
Technical
Robinson R44 Raven II Specifications:
Engine: Lycoming IO-540, six cylinders, fuel injected
Horsepower: Derated to 245 for takeoff and 205 continuous
Maximum Gross Weight: 2500 lb (1134 kg)
Approximate Empty Weight:
(including oil & std avionics) 1495 lb (678 kg)
Standard Fuel: (29.5 gal) 177 lb (80 kg)
Auxiliary Fuel: (17.0 gal) 102 lb (46 kg)
Passengers and Baggage with Standard Fuel: 828 lb (376 kg)
Cruise Speed: up to 116 kts (135 mph)
Maximum Range: (no reserve) approx 300 nm (350 sm)
Hover Ceiling: IGE at Gross Weight 8950 ft
Hover Ceiling: OGE at 2300 lb 7500 ft
Rate of Climb: over 1000 fpm
Maximum Operating Altitude: 14,000 ft
Electrical System: 28 volt
Location
Finance Calculator
What We Offer
R44 I& II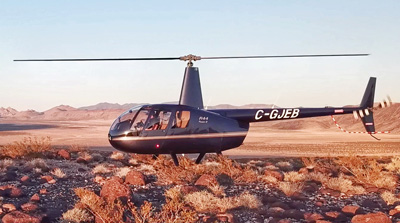 R44 Cadet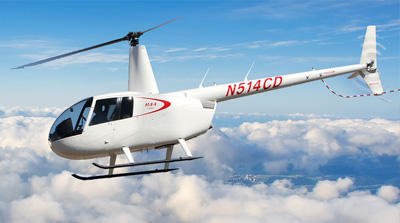 R22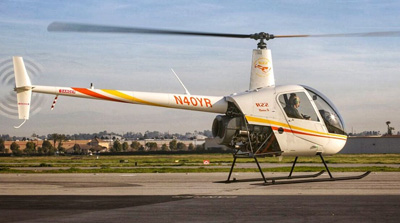 ---