We take pride in our relationships with our customers.  Word of mouth is what helps us continue doing what we love.  For over 30 years we have taken great pride in helping others with their Robinson Helicopters across Canada and Internationally.
Buying a helicopter is very expensive and you should check with others.  Please feel free to contact us to get contact information from some of our customers who have already purchased a Robinson. They would love to talk to you about their experiences with Robinson aircraft and us as a dealer.  You will find most owners of helicopters are very open and willing to share their experiences both good and bad.  This is an indispensable way to see if the Robinson helicopter is even close to what we talk it up to be.
I am thinking back over the last several weeks. My quest to upgrade from a piston Robinson to the turbine R66 started months ago.  I had looked at 20 plus used R66's in detail over that time.  I had interacted with almost that many brokers.  The results had been frustrating, and with my inability to leave my area to personally inspect helicopters in other areas made the search even more difficult.  I found Aerial Recon on Controller and came in contact with you.  I now have in my possession in the United States, delivered here from western Canada, the R66 of my dreams.  I cannot thank you enough for the professionalism, the clear transparency, and integrity which characterized this purchase.  You have followed up every detail, executed every minute issue of the deal to perfection.  The ferry pilot, Marty Charbonneau, that you set up is easily the best CFI that I have ever flown with.  I would absolutely recommend you and your company without reservation for helicopter purchase or sale.  Incredibly positive retail experience.
Thank you,
Randy Tillman
Great River Helicopters, LLC
Natchez, Ms.
Luke has become our go-to guy for my serial helicopter addiction! He's just handled a second R44 sale for us with the same professional  care and attention throughout the process, from questions and pricing and listing right through to the final paperwork. All with a genuinely attentive concern for everyone's best interests and experience.  We really value his expertise and the great work he's done for us, and highly recommend him to anyone looking to buy or sell a helicopter.

– Norm Behan
I purchased a beautiful new R66 from Luke at Aerial Recon this spring.  I can't begin to express just how easy Luke made the experience.  From all of the pre-planning details to the ferry flight home and the endorsement training, it was a pleasure. Luke looked after all of the import details and made sure that the ship was exactly the way that I wanted it prior to delivery.
He made sure that I was able to join him on the ferry flight home from Torrance, CA to Calgary, AB.  The import was done quickly and the little extras were added just as we had discussed. Luke also gave me the endorsement training for the R66.  He has a very calm, quiet instructing technique that helps you to progress quickly and effectively.
Luke makes sure that he is comfortable with your knowledge and that the pilot is comfortable in the machine before saying you are good to go on your own.
Aerial Recon really takes the time to make sure that you are happy with your machine and happy with the experience of buying it.
I would definitely recommend Luke and the folks at Aerial Recon when you are looking at purchasing your next helicopter or trading your existing one.
By the way, the R66 is a fantastic helicopter.  I am very pleased with the features and the quality of the machine.  It is a joy to fly.
Jon Bagley – President | Westman Aerial Spraying Ltd.
Luke and the folks at Aerial Recon were great to work with in buying my R44. Very straightforward honest people, which made the transaction pleasant from start to finish. I certainly plan to purchase my second helicopter from Aerial Recon.
A big Thank You to Luke Yanik. – Tony Chambers

I bought a new Robinson R66 in November 2017.  It was a good experience to work with Luke Yanik and Aerial Recon Ltd.  He was able to exceed my expectations and keep his promises.
I've bought and sold a lot of aircraft in my lifetime.  Hundreds of aircraft.  For me to see how Luke handled everything from a to z was outstanding, even after the sale.  I couldn't ask for anything else.
When I got to Calgary, I got trained by Luke and Marty Charbonneau. It was three years since I've flown a helicopter.  We were able to go out and challenge me and get the rust off.  The next day we did all the emergencies and afterwards further training and examination with  Marty Charbonneau to prove my capability even though it wasn't a requirement.  Marty has extreme knowledge of helicopters.
I can say it was the BEST of the BEST from every level.
I will say if you want to buy a Robinson R44 or R66 then dealing with Aerial Recon and especially Luke is the only way to go. Trust me.
Frank Kelner
CEO and president Northstar Air
I would like to thank Luke Yanik for his expert and courteous handling of the sale of my R44 Raven II.  Within a few weeks he had connected us with the buyer, who then made an offer to purchase, and the whole thing was completed within a few weeks of getting it listed.  All the paperwork was handled professionally, and Luke was great to work with, helping to ease the stress of the process for us both, and facilitate closing the sale.  He handled everything in a timely and professional manner for us. We can't recommend him enough and hope to use his services again in the future.
Norm Behan,
Comox BC
On behalf of Robinson Helicopter Company, Inc. we offer our sincerest gratitude to Aerial Recon Ltd. for their tremendous efforts and assistance in completing the R66 Turbine snow certification in Canada.
Robinson began working(cold weather testing) with Aerial Recon…in January of 2011. On Friday, November 13, 2015, after newarly 5 years of waiting, false starts and searching for the correct snow conditions, testing was finally completed.
In addition to Eric Goud, Robinson thanks Luke Yanik, Ryan Goud, Roger Hogan with Genesis Helicopter Services, and Greg Oucharek with the TCAA, for their individual efforts to plan, coordinate and keep an aircraft available to fly on a moment's notice.  A special thanks to Marty Charbonneau whose know whose knowledge and flying skills in snow were critical to safely completing the testing.
It is a please to be involved with such a dedicated team of professionals. We look forward to continuing our relationship developing the R66 Turbine helicopter market in Canada
-Kurt Robinson
President
Robinson Helicopter Company
(Note from editor:  This certification accomplishment approved all R66's world wide to operate in snow)
These guys are fantastic !!!!! I just finished purchasing my second R44 Raven II from them in the last two years and they sold my last R44. Great experience throughout all the steps in both buying and selling. You are extremely knowledgeable and detail orientated. If anyone is looking for personal, one on one, aviation expertise, Aerial Recon should be at the first and only call you have to make. Keep up the outstanding customer service….
-Allan Fertig
It was a great experience flying my new R66 back from the factory with you.  It was a tremendous opportunity to hone my skills as a commercial pilot to fly with someone like yourself, with so much experience.
Although this was the second ship I have purchased new from Aerial Recon, it was the first time I was able to fly it from the factory back to Canada. The trip through the US was a great experience and I now have my own eAPIS account so I can continue exploring the states in the future.
 The R66 in an incredible helicopter to fly. Don't get me wrong, the R44 is awesome, but the extra power, speed, room and comfort are definitely worth the extra cost.
The fit and finish and overall quality of the ship are instantly noticeable. It always draws a crowd at every airport I visit.
It is always a pleasure dealing with Aerial Recon and its very qualified staff.  There were no surprises throughout the entire process from ordering the ship to taking delivery in Torrance.
Thanks again guys!
-Brad Clarke
"Aerial Recon represented Sunwapta Holdings Corp. in the recent sale of our R-44 Raven II.    Throughout the sale process I was provided with knowledgeable  and honest suggestions aimed at concluding the sale.   We would use their services again and have no hesitation in recommending  them to anyone wishing acquire/divest their interest in a Robinson helicopter(s)."
-Christopher Cairns
President
Sunwapta Holdings Corp. 
"I just wanted to thank Aerial Recon Ltd. for everything you did for me during the purchase of my R44. You went above and beyond from the time we started negotiating the deal and only got more generous with your time in helping get the aircraft across the border and delivered to me in the states. I honestly couldn't have asked for anymore out of you or your company during this transaction. Thanks again!!"
-Todd Lyons
New York
"Aerial recon and the people behind it are just one of those amazingly integral and great companies that you wish you could deal with everyday and certainly look forward to referring people to!"
-Craig Kirker
"I was looking to sell my R44 Raven II so I called a friend who had recently sold his through Aerial Recon and asked him how they were to deal with. His one word answer was: "Excellent".  I called them up and asked them to represent my helicopter and he immediately set up and distributed advertisements.  I appreciated his read on the inquiries that came in and after sifting through them we managed to negotiate a reasonable deal with a Canadian buyer and close it within a few months.  "Seller, Buyer and Broker all walked away happy in the end!"
-Claude Boutin
"I just wanted to pass on a huge Thank you to Aerial Recon for everything you did on the purchase of my new R66.   You guys made the process very easy and painless for me again.  Knowing that this was my second ship that I purchased from you guys I was very confident that you would take care of everything for me, from the import to the delivery and 
you did just that!!  Only haven flown pistons in my short flying career moving up to the Turbine was a very fun and enjoyable experience.  Getting the chance to fly the R66 back to Canada with Marty Charbonneau was an experience of a lifetime!! (Landing at 10,000ft with the 2 of us and having to only use 75% torque to take off was really cool.)   It gave me the opportunity to get familiar with the transition to a turbine and feel 100% comfortable flying it.   The factory tour that you guys set up for me in the morning I arrived was absolutely awesome it is defiantly something that anyone who fly's a Robinson should see, the amount of detail and quality that go in to building these ships was impressive!!
Again I want to THANK everyone from Aerial Recon and would recommend any of your team to any future buyers.  Hands down one of the best experiences I have had!!"
-Dean Kato
"I really appreciated your professionalism and your attention to the details in order to facilitate the sale of the helicopter.  I'm pleased that you were able to navigate the process and make it as simple and smooth as possible for us. We appreciate your efforts and it was a pleasure to do business with you.."
-David M. Calyniuk, CPA, CA
"I had an opportunity to work with Aerial Recon on the purchase of our used 2009 R44.
We looked at and considered a few ships with them over a 6 month period and then purchased our ship in April 2016.
In our case, Eric handed off the purchase transaction to Luke very early on in the process. I was very impressed with Luke's attitude and calm demeanor. It was great dealing with Luke and I have developed a strong working relationship with him through the purchase process.
Luke worked with us and the seller to accommodate the pre-purchase inspection and made himself available to assist the Engineer as required. He showed a keen interest in making sure the ship was in great condition, as was advertised on the Aerial Recon website.
Luke met us at the airport in Kelowna in May 2016 when we arrived to pick up the ship, and was very helpful. He helped us sort through the purchase agreement and ensure we had the correct documents going into Transport Canada. The entire purchase experience went very smoothly. There were no surprises and the Aerial Recon team totally eliminated our apprehensions in regards to dealing with Transport Canada and the registration process. The entire experience was less stressful than purchasing a car.
If you're looking to purchase an R44 either new or used, I would strongly recommend you speak with Aerial Recon. They're experienced pilots and are Robinson Helicopters experts. I can't imagine ever finding another team that would look after my best interest with any more care and professionalism.
Give them a call. You won't be disappointed. Good luck with your purchase!
"
-Dan Guenette
I am the proud owner of a new R44 Clipper II helicopter I purchased in July/05 through Mr. Eric Gould.  The R44 Clipper has not only met but surpassed all my expectations – I really love it.  Since I picked it up in July/05 I have flown it from California to Digby, Nova Scotia, then to Northern Laborador, and this past winter south to Central Florida.  I feel so comfortable and secure in this helicopter that it makes flying a truly pleasurable experience.
Mr. Eric Gould made the actual purchasing of my R44 Clipper II a breeze.  From the first time I called Eric until I brought the helicopter home, there was never a time that I felt Eric was putting less than 100% into helping me.  He was always there to answer my questions, always returned my phone calls, and helped in every way possible (even helped me choose my color).  We talked almost daily about one thing or another, and Eric was so friendly and enthuastic, he made me feel more like a friend than just another customer.  I had the pleasure of flying the helicopter from Los Angeles to Whitecourt, Alberta with Eric as my co-pilot.  It was a trip I will never foget.  I would definitely recommend this gentleman to anyone looking to purchase a Robinson helicopter.
-Calvin Sproule
Digby, Nova Scotia
The R44 has been working great for us. The reliability is not an issue there has not been a problem yet. Dealing with you and your staff has been a pleasure and every question we had you or someone from your staff has been able to answer. We are looking forward to the company training this fall.
-Mike Persoage
President Prairie Helicopters
(Manitoba)
It's now been just over a year since we purchased the R22 Beta (C-FRAD) from you. We have been very pleased with the ship. Early on, the occasional time that we called Whitecourt with a question, we were received and helped very courteously. Much appreciated. Although I have had some prior experience in purchasing a couple of de Havilland Twin Otters from Transport Canada, Greg and I were novices at acquiring a helicopter. We are very pleased that we did so through Aerial Recon Ltd.
-Lambert Huizingh, Pres
Gregory Huizingh, Operations Manager
Muskoka Helicopter Services Inc.
Lake Simcoe Regional Airport (CNB9)
Oro Station, ON
It was a pleasure to fly my new Raven II s/n 10995 home to Canada from California . You said the improvement over my old R44 s/n 006 would be noticed and the improvement in power and performance a pleasure to fly and you were correct.
I can still remember the first flight in Whitecourt we took and after landing asking you, "Where and when can I get one of these?" I remember shaking hands for the sale of the new R44 s/n 006 and waiting for it to arrive from the factory.
Thank you for supplying the extra training to move from the R22 to the R44, it was fun and a wealth of new tips to becoming a better pilot. I LOOK FORWARD TO THE SAME LOW COST MAINTENANCE AND EXCELLENT SERVICE THAT YOU HAVE PROVIDED OVER THE PAST 13 YEARS since you sold me almost the first Astro in Canada . The engineers on staff are very knowledgeable as they work on so many helicopters. They just seem to know where to look and what to look for! They are very willing to pass any information on to the pilots ensuring safety is always kept up to the highest possible standard.
It has been a pleasure doing business with you in the past and I look forward to your continued friendship and business relationship.
Sincerely,
-K.R. Millar
Alberta, Canada

Thank you Eric, I just returned from a meeting with my accountant at Edmonton International airport. It only took me 50 minutes to get there. I had so much time left by the end of the meeting that I landed in Lacombe and took my mom and dad for their first heli ride and then I bought them lunch. What a life changing experiance. Last week I landed at the Bow river heli pad not once but twice. I had a wonderful lunch the one day and the next day I simply had a coffee with my wife and two girls at the coffee shop on the corner, I was home on time to have my beauty nap. I am putting in more instruments in next week then I have Marty lined up for mountains and night training. Do you think I am having fun? Thanks for helping me reach a goal I can still hardly believe I have attained.
-Greg Martineau
Eric helped me immeasurably in making my decision to buy an R44 – in my case the Raven II to facilitate mountain operations. We were looking for an affordable and reliable (primarily) two person ship with enough room and payload for camping gear so we could explore the western mountains. His long experience in the industry helped convince me that I did not want the completely unpredictable maintenance costs of a turbine alternative like a Bell 206. Now after flying another season of Jet Rangers, and Long Rangers at work, and bringing my log book up to 625 hours air time, I see the surprises that turn up at supposedly routine 100 hour inspections. I am more thankful than ever for Eric's counsel.
What about performance you ask? I can't help but feel like a reasonably loaded R44 feels much more capable and willing than a Jet Ranger in a similar circumstance, and while I am not trying to fill all the seats, cram the baggage compartments, and fill the fuel tanks before prowling around 9000 foot peaks with any intention of landing, I have easily slipped into any number of alpine hideaways over 7000 feet with half full tanks, and 2 or 3 of us on board with our hiking packs and other supplies for the day. So far I have not used more than maximum continuous power to get in or to get out of even my highest landings, so there remains all that 5 minute take-off power reserve for a moment of inattentiveness, much more than I can say for my average working day in a Jet Ranger.
In my opinion this is a truly great ship, and you cannot do better than to select Eric as a dealer. He solved every roadblock in my way, even those that cropped up at the very last minute, and he did it all without ever batting an eyelash. You'd think I was his only customer, something I know is far from the truth – it seems like everyone I have met in Western Canada has purchased their machine from him, and they are all equally complimentary! I am now a believer – the R44 Raven II is far and away the ship of choice for any conceivable private use, and that will not change, for many reasons, even after the introduction of the R66.
Paul Lesson
(British Columbia)
I was very impressed with you and your staff regarding the import of my helicopter, and my training to fly it. In fact, the unit was ready two weeks before it was promised, even though I changed a few items at the last minute. The trip from the factory back to Burlington was very good and THE PERFORMANCE OF THE RAVEN ll THROUGH THE ROCKY MOUNTAINS AT HIGH ALTITUDE WAS EXCELLENT – everything went according to plan. And I appreciate the follow-up after we got home. Your after-sales service has been exceptional. I look forward with pleasure to doing more business with you in the future.
With thanks,
-Tony K
(Ontario)
It has been an absolute pleasure working with Eric Gould of Aerial Recon Ltd. in the purchase of three Raven II 's. The process was seamless and all my expectations were either met or exceeded. Even though Robinson helicopters tend to sell themself, it is essential that the dealer have integrity, experience and personality-Eric has all of these qualities. Whether for personal or commercial use, ONCE PEOPLE REALIZE THE CAPABILITIES AND ECONOMICS OF THESE UNIQUE AIRCRAFT, Eric will be a very busy guy.
-Jeff Rocher, President
Boeing 737 pilot
JR Investments Ltd.
(Ontario)
When in the course of my travels, people ask "Who do you know that does (whatever you can think of in an R22/R44) AND does it both safely and profitably?" I unhesitatingly answer Aerial Recon.  Your Organization has become the standard to which I compare everyone else. 
I appreciate receiving your brochure. It is impressive. So much so, as a matter of fact, I am forwarding it to our dealer in the People's republic of China as an example of how professionals do things. Mahatma Ghandi's quote on the inside back cover is indeed appropriate and more importantly accurate, based upon my conversations with your customers.
As usual, your attention to detail is also evident in the shirt you sent me, thank-you very much. A button-down collar! Long sleeves! Rest assured it will be seen often about RHC.
-Patrick Cox
Robinson Helicopter Company
I recently updated to a Raven R44 II, and would recommend this as a
purchase option for any recreational pilot. I previously owned a R44 Astro, and after a long deliberation on whether or not to upgrade, I finally called Eric Gould.
Eric made the whole process very painless and easy, and I will definitely be calling him again for my next purchase. What I really appreciated in the service that Eric provided was his meticulous attention to the details and options, to ensure that the aircraft suited all my needs. He even went as far as to assist me in the registration of the ident call letters.
It is hard to put into words the satisfaction that I feel with the new R44 Raven II. ONE OF THE GREATEST ATTRIBUTES OF THE R-44 ROBINSON IS THE LOW COST TO OPERATE AND SIMPLE UPKEEP. Another attribute of the R44 Raven is the ability to Hanger the aircraft in a regular shop style building. At my home base I constructed an 11 ft by 16 ft cart to land on. Using a quad I pull it in and out of my shop. This system works extremely well and is a one-man operation.
I wouldn't hesitate recommending this model to anyone and would be happy to talk directly to anyone interested in the R44 Raven II. Please don't hesitate to call Eric, and he can forward my contact numbers to you.
Keep the Blue Side Up,
-Wayne Pidhirney
Hello Eric,
I would like to Thank you and John for allowing me to come along to Torrance California to pick up my new Robinson R44 helicopter. I enjoyed the tour of the Robinson Factory and meeting Kurt Robinson.
The cross country trip home over the different states and landscapes was a memorable experience. The over night stops and the extra time you spent with me showing me the helicopters ability.
Buying the new R44 from Aerial Recon plus the adventure made my purchase the ultimate experience. I'm not just a customer; you have made a new friend.
Yours Sincerely;
-Stephen Truscott
Truscott's Contracting Ltd.
I have bought two r44's from Eric all ready. He is a man of integrity and service. He is one that will go to bat for the customer and do what's right. I have nothing but praise for this company. I would never even think of buying any where else.
-Peter Teichroeb
Eric,
Well I am now officially a Helicopter pilot and at 54 years old I am pretty proud of myself. I wanted to let you know how happy I am that I went ahead and purchased my ship early in the game so that I could take my license on it.
It is very exhilarating every time I climb into the pilot seat. I love the R-44 for many reasons but the main one is that it is not complicated to learn, it is very stable and I am coming up to my 100 hour check knowing that I will not have a large bill to deal with.
I also want to thank you for working the insurance company to get their coverage more competitive. They have stepped up to the plate and I have jumped on board with full hull coverage.
I have attached the picture of my delivery you arranged with Frank Robinson. It looks good on my office wall.
Thanks again Eric I look forward to flying for many years.
-Greg Martineau
Hi Eric,
I wanted to thank you for all your help and guidance with my recent R44 Raven II purchase. I am extremely pleased with the aircraft and I am very grateful for everything you did and for answering my endless questions.
When researching this purchase your name kept coming up over and over. My business is built on my reputation. Excellent service and reliability are the hallmarks of my company. You and I are exactly alike in this regard.
The transition from my 300C to the Raven II has been both a challenge and a blessing. The challenge has been relearning the cyclic. I haven't used a "T" cyclic since flight school. The blessing has been my reduced workload in the cockpit. The governor control and speed of the aircraft is impressive. The endurance, cargo capacity and speed limitations that I experienced with my 300C have been completely eliminated.
This machine has allowed me the opportunity to service my clients in a timely manner. I would have no hesitation in recommending this machine, or yourself. One last thing – the flight from LA should be mandatory!
Safe flying.
-Neil Embleton
Helivet Mobile Orthopedic Surgical Services
The skies cleared miraculously yesterday and I just had to get out and about. The caretakers at the lodge were out skiing on one of the local mountains and took this while I was over their way to say hello. Also did some nice winter landings in various alpine locations and had a generally WOW day.
Have a great one Eric.
-Paul Leeson
Moonraker Management
I have flown many Piston Helicopters in my career and nothingcompares to the
reliability and high safety rating of an R 44 or R 22 helicopter. My business Helicopters Canada flight training school, operates R 22's and R 44's. We recently purchased machines from Eric Gould at Aerial Recon. Eric was very helpful accommodating us with our new equipment, both service and support at the time and afterwards was excellent. I had other options here in Ontario for my New Robinson Helicopters however I chose Eric because of his reputation as a Robinson Helicopter dealership in Canada. Our future plans are to eventually purchase additional Robinson Helicopters and will continue to Eric for this service.
-Jeff Sullivan,
Helicopters Canada (Flight Training School)
http://www.helicopterscanada.com
1378770 Ontario Inc.
We hope Eric is back from the Great White North with the R66 winter testing…Wes and I were thinking of him @ HAI in Orlando… waterskiing, golf and of course lots of chopper stuff… Wes and I got our picture taken with Frank Robinson… that was very special… he is a great guy… he spoke very highly of Eric and the crew @ Aerial Recon…good work.
All the best. Sincerely, Vern.
-Vernon Zelent,
Chief Pilot
ERH
Edmonton Regional Helicopters
Being a 'junior' in the world of aviation, I quickly realised that Eric Gould had a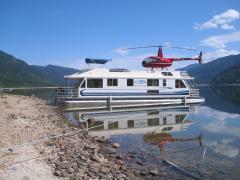 reputation throughout the heli-industry in Northern Alberta. As I grew to know him, I respected his opinion due to what he had accomplished in his lifetime and due to the success of the company he had built. I worked towards the purchase of my aircraft for years and I received a lot of valuable direction and advice from Eric throughout that time. I purchased my company's new Robinson R44 Raven II in November of 2009. I chose this aircraft for it's safety, efficiency, comfort & size, reliability and relatively low maintenance required. I feel that the R44 Raven II offers exceptional value that can't currently be competed with for the price point. I was not endorsed on R44 when I went to the U.S. to fly it home from Torrance, California, USA to Airdrie, Alberta, Canada (and then finally up to Grande Prairie, Alberta). Eric lined me up with Marty Charbonneau, an instructor who I flew back and completed my endorsement with. The experience was nothing short of an experience of a lifetime.Eric's efforts made the purchasing and import process into Canada extremely smooth and he was constantly available to lend support if we needed it along the way. Owning this helicopter is an absolute dream for me and I can't express this in any other way.
-Jared Cianfagna,
Lead Oilfield Consultant & President
Remote Energy Consulting Ltd.
After meeting you all in January 2013 via the purchase of an R44 II, I always look forward to talking with you guys and wanted to thank you for taking the time out of your weekend to introduce me to the R66 at Aerial Recon.  I've flown several R44's commercially and corporately, and I'm excited for the R66 to gain traction in both industries.  I was very impressed with the available power on vertical takeoff and in cruise flight, given the configuration we had.  It is always interesting to learn more about Robinson Helicopters and the strides they are making in the helicopter world.
It's always a pleasure being around the Aerial Recon team.
-Cam Doull
Pilot & Flight Operations
"I would like to thank you both for all your help with the recent purchase of my R44 Raven II. You both went above and beyond in making the experience a great one. I sincerely appreciate the honesty, integrity, and customer service that Aerial Recon provides to their customers. I look forward to working with you again when the time comes to purchase another helicopter."
-Allan Tomke