R44 Raven II 2005 C-GILM
$220,000 USD
Year: 2005

Manufacturer: Robinson Helicopter Company

Model: R44 Raven II

Serial Number: 10831

Total Time: 3872.1

Condition: Used

Location: North Bay, Ontario

Engine: Lycoming IO-540, six cylinder, fuel injected

Exterior Color: Blue with Silver Trim

Interior Color: Blue Velour with Grey Fabric covers
---
Overview
Accepted Offer and set to close Feb/March 2022.
The aircraft is equipped for utility work and will work well for a commercial or private buyer.  The helicopter comes with a cargo hook and one external pod.
It is located in North Bay, Ontario, Canada. Currently, there are very few good helicopters on the market due to the demand. Don't hesitate to contact us as it will not last long.
Overhaul Details:
Date of overhaul: Jan 15, 2014
12 year due: 2026
Hours until next 2200 hour overhaul: 525.3 Hours per year remaining: 131 hours per year
Features
Cargo Hook
Cargo Mirror
Matching Heli pod
Digital Chrono with 2 USB chargers
Bear Paws
Heated Pitot Tube
Winter Covers. Engine, Main Rotors and Tail Blade
Floor Trays
Dual Controls
Blade Tie Downs
Avionics
9 Hole Panel
Garmin 430 GPS/COM
Artificial Horizon
Directional Gyro
Turn Co-ordinator
CDI
King 196 COM
Kannad 406 ELT
Nat 12 Audion Controller
Technical
Specifications & Dimensions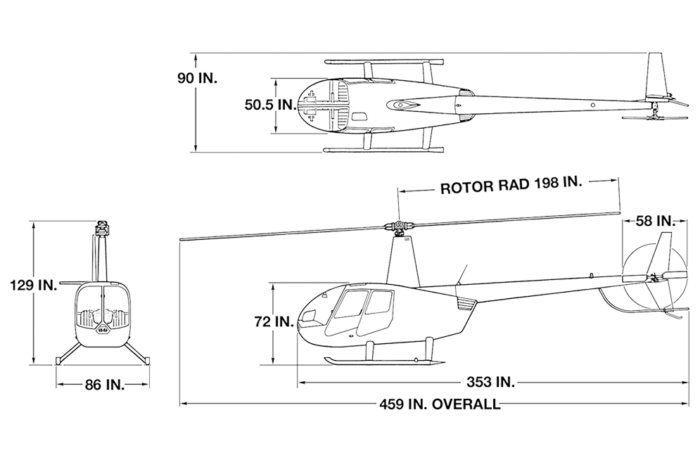 Helicopter
R44 Raven II
Engine
Lycoming IO-540, six cylinder, fuel injected
Horsepower
Derated to 245 for takeoff and
205 continuous
Maximum Gross Weight
2500 lb (1134 kg)
Empty Weight of Standard R44 II (including oil & standard avionics)
1535 lb (683 kg)
Standard Fuel (29.5 gal)
177 lb (80 kg)
Auxiliary Fuel (17.0 gal)
102 lb (46 kg)
Pilot, Passengers, and Baggage (with standard fuel)
818 lb (371 kg)
Cruise Speed at Maximum Gross Weight
up to 109 kts (202 km/h)
Maximum Range (no reserve)
approx 300 nm (550 km)
Hover Ceiling IGE
8950 ft @ 2500 lb
Hover Ceiling OGE
7500 ft @ 2300 lb
Rate of Climb
over 1000 fpm
Maximum Operating Altitude
14,000 ft
Electrical System
28 volt
Location
Finance Calculator
What We Offer
R44 I& II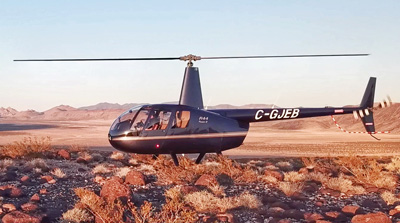 R44 Cadet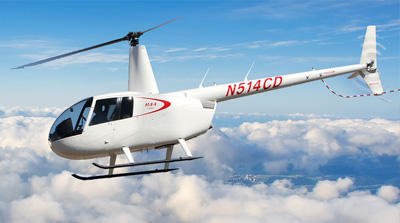 R22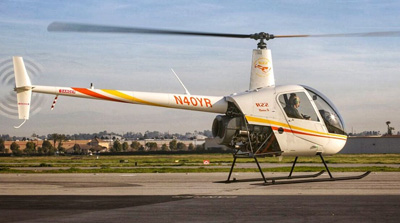 ---