Fresh O/H 2008 R44 Raven II C-FSSZ
Reduced Price: $437,000 USD
$420,000 USD
Year: 2008

Manufacturer: Robinson Helicopter Company

Model: R44 Raven II

Serial Number: 12321

Total Time: 2215

Condition: Used

Location: Springbank Airport - Calgary

Engine: IO 540

Exterior Color: Red Pearl Metallic(Maroon) with Sand Metallic Trim

Interior Color: Tan Leather
---
Overview
What are the Benefits of purchasing this helicopter? 
Excellent Options:
This helicopter is loaded with great options.  Air Conditioning is great option when flying in the summer or when considering resale value.  The helicopter is Night VFR Capable.  The Cargo Hook allows it to be a multi-role helicopter.  The new interior is comfortable, stylish and smells like new! ADSB- Out has been installed to meet the new airspace requirements.
A new option that this helicopter has, that proves very handy is the New RHC Air Oil separator.  This drastically reduces the amount of oil that is wasted through the breathing tube.  With over 10 hours flown since overhaul, there has been no drops on the hangar floor or covering the bottom of the helicopter.
Purchase price vs New:
This helicopter, if it were purchased new with the same options would be over $560,000 USD.  It will sell for over 100,000 USD less than new and come with the same amount of usable hours and years until the next major overhaul is due.
Hours and time remaining + Warranty:
This helicopter is fresh out of overhaul and has, like new, approx. 2200 hours or 12 years until the next major overhaul.  Warranty is available on all parts that were replaced in the overhaul and will last for 1 year or 1000 hours, whichever comes first.   The overhaul was completed in March of 2020.
Previous owner:
I can't describe to you how well the previous owner took care of this helicopter.  The previous owner's care of this helicopter was like no one else we have seen.  It spent 99% of the non-flying life stored in spotless clean heated hangar.  After every flight the owner would clean the aircraft with a new rag!  I can honestly say I don't know of a better treated helicopter out there.
Overhaul Shop:
The overhaul was completed by the highly experienced and reputable Genesis Helicopter Services Inc.  They do more overhauls in Canada than anyone else we know of.  The R44's that we have received from Genesis are always high quality with excellent customer service.
During the overhaul, this helicopter received a new factory interior.  This includes the tan leather interior, new headliners and charcoal carpet.  The engine is a rebuilt Lycoming factory exchange IO- 540- AE1A5.
Quality of Support:
Since 1985, Aerial Recon has helped hundreds of clients across the world buy and sell Robinson Helicopters.   Let our professional, friendly and trustworthy guidance help you through the buying process and support you after the purchase.  If you have any questions don't hesitate to contact us.
403-918-598 info@r44.ca
Features
Air Conditioning
Cargo Hook
Cargo Mirror
RHC Air Oil Separator Kit installed
Dual USB Charge port
Large Bubble Window - for external sling work
Bubble Windows
Heated Pitot Tube
Fire Extinguisher
Vertical Card Compass
Digital Clock
Windshield Cabin Cover
Blade Tie downs
Dual Controls
Ground Handling Wheels
Dart Floor Trays
Dart Cold Weather Baffle Kit
Xenon HID Landing lights
Avionics
GNC 420 WGarminAAS GPS/COM #2 in center console
Garmin SL 40 Transceiver COM #1
Garmin GTX 335 ADSB- OUT Transponder(new)
Pilot side console with Ram ball mount
Nat 12 Audio Controller
9 Hole Panel
Artificial Horizon
Directional Gyro
Turn Coordinator
Night VFR Capable - AH, DG, TC
Kannad 406 ELT
Bose interface all seats
Technical
Specifications & Dimensions
Helicopter
R44 Raven II
Engine
Lycoming IO-540, six cylinder, fuel injected
Horsepower
Derated to 245 for takeoff and
205 continuous
Maximum Gross Weight
2500 lb (1134 kg)
RHC Standard R44 Approximate Empty Weight (including oil & standard avionics)
1505 lb (683 kg)
Standard Fuel (29.5 gal)
177 lb (80 kg)
Auxiliary Fuel (17.0 gal)
102 lb (46 kg)
Pilot, Passengers, and Baggage (with standard fuel)
818 lb (371 kg)
Cruise Speed at Maximum Gross Weight
up to 109 kts (202 km/h)
Maximum Range (no reserve)
approx 300 nm (550 km)
Hover Ceiling IGE
8950 ft @ 2500 lb
Hover Ceiling OGE
7500 ft @ 2300 lb
Rate of Climb
over 1000 fpm
Maximum Operating Altitude
14,000 ft
Electrical System
28 volt
Location
Finance Calculator
What We Offer
R44 I& II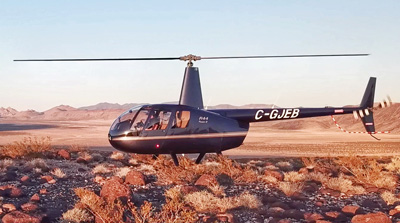 R44 Cadet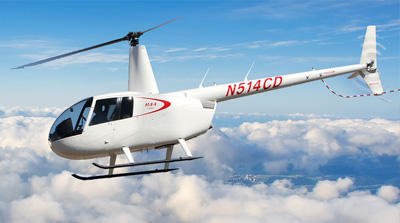 R22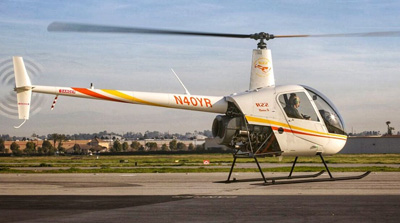 ---