R66 C-GWPV
$
Year: 2012

Manufacturer: Robinson Helicopter Company

Model: R66

Serial Number: 0183

Total Time: 545

Condition: USED

Location: Leslieville, AB

Engine: RR300 Turbine

Exterior Color: Black with No Trim

Interior Color: Tan Leather with Tan fabric Seat Protectors Shown
---
Overview
For sale is one of the nicest used R66 available.  This helicopter has been meticolously taken care of by the current owner with nothing spared to keep this helicopter in like new condition.  This helicopter demonstrates that you can have both luxury and function combined.
The five-seat R66 Turbine helicopter is reliable, economical and easy to maintain. R66s have a two-bladed rotor system, T-bar cyclic and the latest in Robinson technology including streamlined instrument panels, energy absorbing seats and crashworthy bladder fuel tanks. What distinguishes the R66 is a spacious 300 lb capacity baggage compartment and the Rolls Royce RR300 turboshaft engine. The RR300 engine operates on readily available Jet A fuel and offers increased reserve power, additional payload and improved altitude performance. Hydraulic controls eliminate feedback forces and provide responsive handling.
With continued focus on safety, the R66 meets the latest FAA crashworthiness regulations.
Features
Air Conditioning
Heated Pitot Tube
4 Bose A20 Bluetooth Headsets with interface All Seats
Bearpaws by Dart
Hook by Dart: 1015 lbs lifting capacity
Floor Trays by Dart: Clear
Cargo Mirror by Dart
Clear Floor Trays by Dart
Cargo liner protector by Dart
Forward Fire Extinguisher
Windshield and all windows tinted
Vertical Compass Card
9 Hole Panel
RG 325 24V, 25 Amphr upgraded battery
Extended Cabin Cover
Note: Registration is decals and therefore easily changed.
Avionics
Garmin 500W GPS in Pilot Side Console
Garmin 420W GPS/COMM in Lower Bay
Artificial Horizon and Slip Skid
Directional Gyro
Turn coordinator
King KY196A Transceiver
Transponder: Garmin GTX 327 with Mode C
ELT: Kannad 406 AF
Technical
Specifications & Dimensions
| | | |
| --- | --- | --- |
| Helicopter | R66 Turbine | |
| Engine | Rolls Royce RR300 Turbine | |
| Horsepower | 300 shp turboshaft; derated to 270 shp for takeoff and 224 shp continuous | |
| Maximum Gross Weight | 2700 lb (1225 kg) | |
| Approximate Empty Weight (including oil & standard avionics) | 1280 lb (581 kg) | |
| Fuel Capacity (73.6 gal) | 493 lb (224 kg) | |
| Pilot, Passengers, and Baggage (with maximum fuel) | 927 lb (420 kg) | |
| Cruise Speed at Maximum Gross Weight | up to 110 kts (204 km/h) | |
| Maximum Range (no reserve) | approximately 350 nm (650 km) | |
| Hover Ceiling IGE at Maximum Gross Weight | over 10,000 ft | |
| Hover Ceiling OGE at Maximum Gross Weight | over 10,000 ft | |
| Rate of Climb | over 1000 fpm | |
| Maximum Operating Altitude | 14,000 ft | |
| Electrical System | 28 volt | |
Location
Finance Calculator
What We Offer
R44 I& II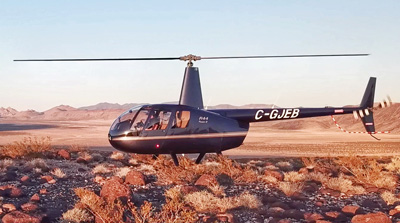 R44 Cadet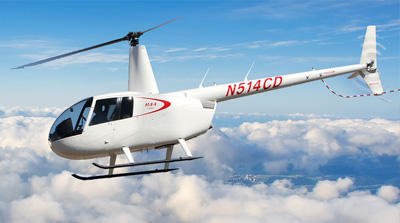 R22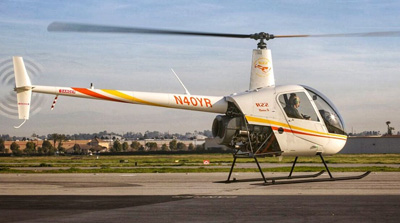 ---