2017 R66 Robinson Helicopter For Sale – SOLD
$
Year: 2017

Manufacturer: Robinson Helicopter Company

Model: R66

Serial Number: 0765

Total Time: 235

Condition: Used

Location: Springbank Airport, Alberta, Canada

Engine: RR300

Exterior Color: Midnight Blue Metallic

Interior Color: Charcoal Leather
---
Overview
Now presenting an absolutely loaded R66 helicopter.  Its condition is impeccable and looks like new! Originally this aircraft was used as the showcase helicopter at the 2017 HAI helicopter trade show. This helicopter still has warranty remaining as it is a 2017 and is covered until 1000 hours or 2019.  We can stand behind this aircraft as we sold it new, know where it has been, who was flying and can trust the maintenance provider that has been maintaining it.  This helicopter has never been operated near salt water and has been kept in a heated hangar at Springbank Airport just outside of Calgary, AB.  Included with the helicopter is an electric tow cart for easily moving the helicopter in and out (6,000 USD value).  Save over $100,000 USD vs buying new and get nearly all the benefits.   The helicopter has been professionally cleaned and the new owner is going to love this helicopter.
Videos
Features
Air Conditioning
Bose Interface - All Seats
Utility Aft Center Console
Pilot Accessory Bar with 2 USB charge ports
2 USB Charge port in aft
Extra Corrosion protection
Upgraded RG 325 (24 Volt, 25 Amphour) battery
Windshield and Door Windows - Tinted
Vertical Card Compass
Baggage Compartment Carpet
Fire Extinguisher
Extended Cabin Cover
**Additional** Like new - Helitowcart V201 electric heli mover
Avionics
Autopilot - Genesys HeliSAS
Garmin 500H PFD/MFD Display
Garmin 750 GPS/COM/NAV
Synthetic Vision - Helicopter
Garmin GTR 225B Com #2 Transceiver
GTX 345 Garmin Mode S ADS-B In/Out Transponder
Kannad 406 AF ELT
Garmin GMAHc Audio Panel with 3D sound
Technical
Since 2010 the 5 seat R66 has quickly become a top-selling turbine helicopter. It is economical, reliable and kept simple by design. With close to 1000 units sold, this helicopter has proven itself in a challenging market. The R66 is powered by the robust and reliable Rolls Royce RR300 turboshaft engine which is a slightly modified version of the Allison 250-C20B engine that has been around since 1958 with over 30,000 units produced.
With a comfortable cabin size, large rear cargo bay, impressive performance and tail rotor authority, the R66 is in a class by itself. The performance of the R66 is impressive. We personally have taken off at 21 deg C with 4 (200 lb) people and a full tank (3 hours of fuel). Not too many aircraft manufacturers build aircraft that can take off and perform at max weight. We have also landed at 13,000 feet with 3 people and 3/4 tank of fuel with plenty of power reserve. Bell Jet Rangers and Ec 120s will not be able to come close to the R66 when it comes to operating costs and performance.
Robinson kept the systems simple and easy to maintain. Inspections are performed every 100 hours and annually. Overhaul schedule is every 12 years or 2000 hours whichever comes first. There are worldwide support for maintenance and Aerial Recon is always here to assist our clients.
Specifications & Dimensions
| | | |
| --- | --- | --- |
| Helicopter | R66 Turbine | |
| Engine | Rolls Royce RR300 Turbine | |
| Horsepower | 300 shp turboshaft; derated to 270 shp for takeoff and 224 shp continuous | |
| Maximum Gross Weight | 2700 lb (1225 kg) | |
| Approximate Empty Weight (including oil & standard avionics) | 1280 lb (581 kg) | |
| Fuel Capacity (73.6 gal) | 493 lb (224 kg) | |
| Pilot, Passengers, and Baggage (with maximum fuel) | 927 lb (420 kg) | |
| Cruise Speed at Maximum Gross Weight | up to 110 kts (204 km/h) | |
| Maximum Range (no reserve) | approximately 350 nm (650 km) | |
| Hover Ceiling IGE at Maximum Gross Weight | over 10,000 ft | |
| Hover Ceiling OGE at Maximum Gross Weight | over 10,000 ft | |
| Rate of Climb | over 1000 fpm | |
| Maximum Operating Altitude | 14,000 ft | |
| Electrical System | 28 volt | |
Location
Finance Calculator
What We Offer
R44 I& II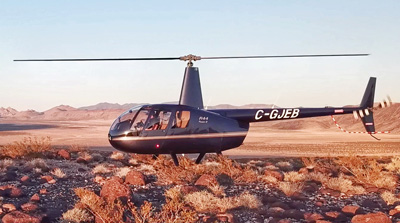 R44 Cadet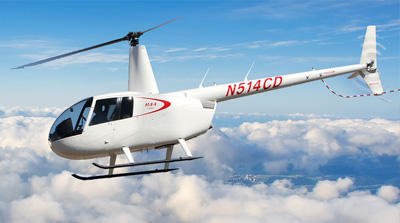 R22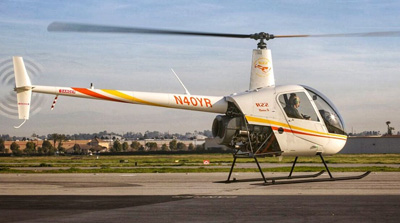 ---