2013 R66 Robinson Helicopter- 0393
$589900
Year: 2013

Manufacturer: Robinson Helicopter Company

Model: R66

Serial Number: 0393

Total Time: 1135 hours total

Condition: Used

Location: Grande Prarie

Engine: RR300

Exterior Color: Volcano Red Pearl Metallic

Interior Color: Tan Leather
---
Overview
Now available is an R66 helicopter that has great times remaining.  This 2013 R66 was manufactured in June of 2013 and has 868 hours remaining.  This makes for approx. 200 hours per year remaining.  Maintenance has been performed at a commercial standard and will be sold with all AD's and SB's up to date.
Features
Air Conditioning
Heated Pitot Tube
Fire Extinguisher
Vertical Card Compass
9 Hole Panel
Windshield Cabin Cover
Blade Tie Downs
Bose Interface
Rear Utility Console
Dual Controls
Ground Handling Wheels
Cargo Bay Liner
Avionics
Garmin 796 in pilot side console
Artificial Horizon
Directional Gyro
Turn Coordinator
Bendix King KY-196 Com
ELT- Kannad 406
Garmin GTX Mode C Transponder
Technical
Since 2010 the 5 seat R66 has quickly become a top-selling turbine helicopter. It is economical, reliable and kept simple by design. With over 1000 units sold, this helicopter has proven itself in a challenging market. The R66 is powered by the robust and reliable Rolls Royce RR300 turboshaft engine which is a slightly modified version of the Allison 250-C20B engine that has been around since 1958 with over 30,000 units produced.
With a comfortable cabin size, large rear cargo bay, impressive performance and tail rotor authority, the R66 is in a class by itself. The performance of the R66 is impressive. We personally have taken off at 21 deg C with 4 (200 lb) people and a full tank (3 hours of fuel). Not too many aircraft manufacturers build aircraft that can take off and perform at max weight. We have also landed at 13,000 feet with 3 adult males and 3/4 tank of fuel with plenty of power reserve. Bell Jet Rangers and Ec 120s will not be able to come close to the R66 when it comes to operating costs and performance.
Robinson kept the systems simple and easy to maintain. Inspections are performed every 100 hours and annually. Overhaul schedule is every 12 years or 2000 hours whichever comes first. There are worldwide support for maintenance and Aerial Recon is always here to assist our clients.
Specifications & Dimensions
| | | |
| --- | --- | --- |
| Helicopter | R66 Turbine | |
| Engine | Rolls Royce RR300 Turbine | |
| Horsepower | 300 shp turboshaft; derated to 270 shp for takeoff and 224 shp continuous | |
| Maximum Gross Weight | 2700 lb (1225 kg) | |
| Approximate Empty Weight (including oil & standard avionics) | 1280 lb (581 kg) | |
| Fuel Capacity (73.6 gal) | 493 lb (224 kg) | |
| Pilot, Passengers, and Baggage (with maximum fuel) | 927 lb (420 kg) | |
| Cruise Speed at Maximum Gross Weight | up to 110 kts (204 km/h) | |
| Maximum Range (no reserve) | approximately 350 nm (650 km) | |
| Hover Ceiling IGE at Maximum Gross Weight | over 10,000 ft | |
| Hover Ceiling OGE at Maximum Gross Weight | over 10,000 ft | |
| Rate of Climb | over 1000 fpm | |
| Maximum Operating Altitude | 14,000 ft | |
| Electrical System | 28 volt | |
Location
Finance Calculator
What We Offer
R44 I& II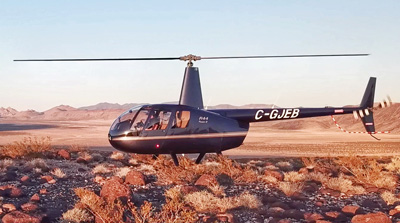 R44 Cadet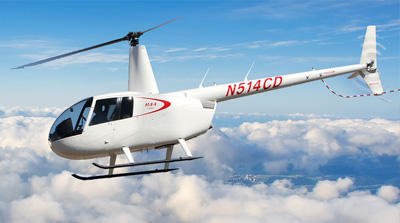 R22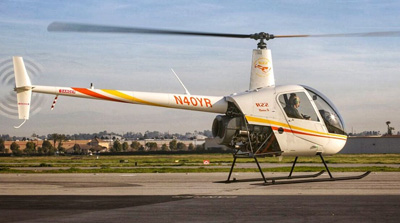 ---