2011 R44 Raven II C-GKDT For Sale
Reduced Price: $259,900 USD
$237,000 USD
Year: 2011

Manufacturer: Robinson Helicopter Company

Model: R44 Raven II

Serial Number: 13161

Total Time: 720 Hours

Condition: Used

Location: Calgary

Engine: Lycoming IO-540

Exterior Color: Black with Gold Decals

Interior Color: Tan Leather
---
Overview
ACCEPTED OFFER.  RELISTED AT A REDUCED PRICE.  Available for purchase is a very nicely equipped and sharp-looking 2011 R44 Raven II helicopter. This helicopter has always been privately owned and operated and very well taken care of.
It is maintained to a commercial level by a very reputable maintenance provider.
It was manufactured in July of 2011, therefore this helicopter is not due for the 12-year inspection until July 2023.
This helicopter has the newer style -7 main rotor blades and the fuel bladder installed.
Note that the registration and marks are decals.
We've never seen R44 inventory this low.  Call now to learn more as this helicopter will not last long!
Quality Support throughout the Sale:
Since 1985, Aerial Recon Ltd. has helped hundreds of clients across the world buy and sell Robinson Helicopters.  We are a Robinson Factory Dealer and sell both used and new Robinson Helicopters.  We have sold used aircraft to the USA, Brazil, Mexico, China, New Zealand, Australia, South Africa and more.  Let our professional, friendly and trustworthy guidance help you through the buying process and support you after the purchase.  If you have any questions don't hesitate to contact us.
403-918-5981 info@r44.ca
Features
Exterior Color: Black Metallic with Gold Decals and Trim
Interior: Tan Leather
Heated Pitot Tube
5 Point Harness
Digital Clock
Tannis Pre-Heater Kit Installed
Windshield Cabin Cover
Blade Tie Downs
Bose Interface
Dual Controls
Kannad 406 ELT
Vertical Compass Card
Avionics
9 Hole Panel
Pilot Side Console with Garmin GNC 420 GPS/COM #2
Artificial Horizon with Slipskid
Directional Gyro
Turn Coordinator
Bendix King Ky-196 COM #1
Nat 12 Audio Controller
Technical
Specifications & Dimensions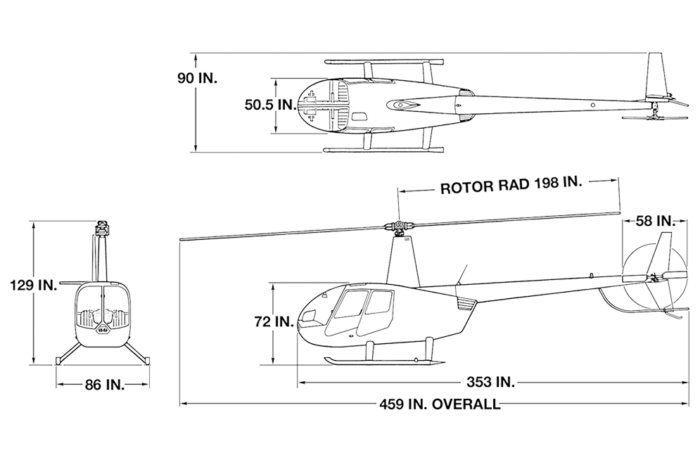 Helicopter
R44 Raven II
Engine
Lycoming IO-540, six cylinder, fuel injected
Horsepower
Derated to 245 for takeoff and
205 continuous
Maximum Gross Weight
2500 lb (1134 kg)
Empty Weight of Standard R44 II (including oil & standard avionics)
1535 lb (683 kg)
Standard Fuel (29.5 gal)
177 lb (80 kg)
Auxiliary Fuel (17.0 gal)
102 lb (46 kg)
Pilot, Passengers, and Baggage (with standard fuel)
818 lb (371 kg)
Cruise Speed at Maximum Gross Weight
up to 109 kts (202 km/h)
Maximum Range (no reserve)
approx 300 nm (550 km)
Hover Ceiling IGE
8950 ft @ 2500 lb
Hover Ceiling OGE
7500 ft @ 2300 lb
Rate of Climb
over 1000 fpm
Maximum Operating Altitude
14,000 ft
Electrical System
28 volt
Location
Finance Calculator
What We Offer
R44 I& II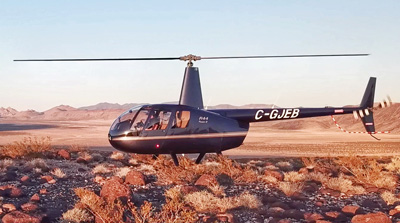 R44 Cadet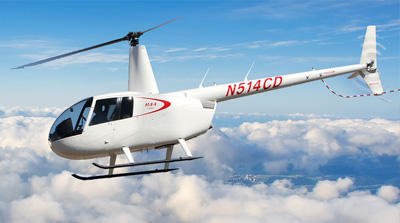 R22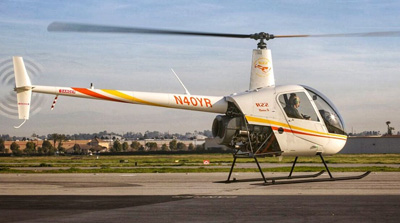 ---