2011 R44 Clipper II
$129,000 USD
Year: 2011

Manufacturer: Robinson Helicopter Company

Model: R44 Clipper II

Serial Number: 13045

Total Time: 2175

Condition: Used

Location: Abbotsford, BC, Canada

Engine: Lycoming IO-540, six cylinder, fuel injected

Exterior Color: Black Metallic with no logo. Decal Registration marks

Interior Color: Tan Leather
---
Overview
Available for purchase is a very nice 2011 R44 Clipper II helicopter.  This helicopter has Air Conditioning and Factory Pop-Out floats.  The aircraft has 25 hours or until 2023 when the first overhaul will be required.  The aircraft is currently privately owned and maintained to a commercial standard.  It will be sold with all AD's and SB's up to date.  The last annual was completed in September of 2020.
This aircraft will work very well for the next owner who wants to purchase a quality aircraft with value built in to overhaul.
Quality Support throughout the Sale:
Since 1985, Aerial Recon has helped hundreds of clients across the world buy and sell Robinson Helicopters.  We have helped people buy and sell aircraft in the USA, Canada, Mexico, South Africa, New Zealand, Brazil, China, and Australia.  Each sale has unique challenges and we are here to make that as smooth as possible. Our clients have always been very happy with the service that we provide.  Let our professional, friendly and trustworthy guidance help you through the buying process and support you after the purchase.  If you have any questions don't hesitate to contact us.
403-918-598 info@r44.ca
About Robinson R44 Clipper II's
Four-seat Robinson Clipper II helicopters are high-performing, reliable and easy to maintain.  Maintenance is performed annually and every 50 hours.   R44s have a two-bladed rotor system, T-bar cyclic and crashworthy bladder fuel tanks.
The R44's aerodynamic fuselage optimizes airspeed and fuel economy. Hydraulic controls eliminate feedback forces and provide responsive handling. A low tail-rotor tip speed, newly designed muffler and large cambered tail reduce flyover noise.
Clipper II helicopters are powered by Lycoming's IO-540 fuel-injected engine. The IO-540 delivers better altitude performance, increased payload and eliminates the need for carburetor heat.
Features
Air Conditioning
Factory Pop out Floats
Fire Extinguisher
9 Hole Panel
Bubble Windows
Windshield Cabin Cover
Analog Clock
Blade Tie downs
Dual Controls
Ground Handling Wheels
Extra Corrosion Protection
Floor Trays
Avionics
Artificial Horizon with slip skid
CDI- Course Deviation Indicator
Directional Gyro
Technical
Specifications & Dimensions
| | |
| --- | --- |
| Helicopter | R44 Clipper II with Pop-out Floats |
| Engine | Lycoming IO-54O, six cylinder, fuel injected |
| Horsepower | Derated to 245 for takeoff and 205 continuous |
| Maximum Gross Weight | 2500 lb (1134 kg) |
| Approximate Empty Weight (including oil & standard avionics) | 1570 lb (712 kg) |
| Standard Fuel (29.5 gal) | 177 lb (80 kg) |
| Auxiliary Fuel (17.0 gal) | 102 lb (46 kg) |
| Pilot, Passengers, and Baggage (with standard fuel) | 753 lb (342 kg) |
| Cruise Speed at Maximum Gross Weight | up to 106 kts (196 km/h) |
| Maximum Range (no reserve) | approx 300 nm (550 km) |
| Hover Ceiling IGE | 8950 ft @ 2500 lb |
| Hover Ceiling OGE | 7500 ft @ 2300 lb |
| Rate of Climb | over 1000 fpm |
| Maximum Operating Altitude | 14,000 ft |
| Electrical System | 28 volt |
Location
Finance Calculator
What We Offer
R44 I& II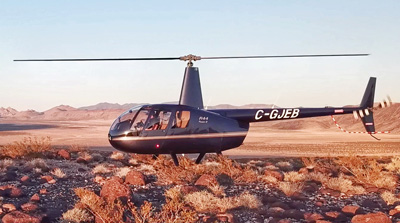 R44 Cadet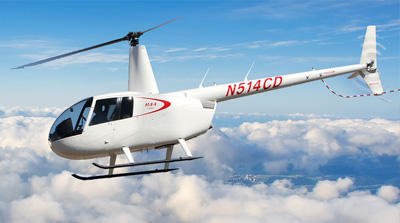 R22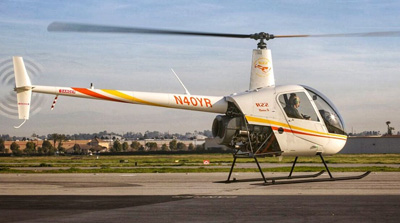 ---