2009 R44 Raven II C-FLDK For Sale
$
Year: 2009

Manufacturer: Robinson Helicopter Company

Model: R44 Raven II

Serial Number: 12944

Total Time: 811.6

Condition: USED

Location: Kelowna

Engine: Lycoming IO-540

Exterior Color: Black Metallic with Orange Trim

Interior Color: Tan Leather
---
Overview
Beautiful Raven II for sale. This helicopter is very nicely set up with the smaller 7 hole panel dash and placed the smaller manifold pressure lower on the console. This way the Artificial Horizon, Directional Gyro, and Turn Coordinator all fit nicely and is night VFR capable. This helicopter has a cargo hook, bear paws, nice tan leather interior and has the rubber fuel bladders installed. This helicopter has Air Conditioning and has always been kept in a hangar. The -5 MR blades Due in 2020 but the aircraft itself is not due for the 12 year until November 2021.
Whether you are accustomed to purchasing aircraft or new to it, we are here to help. Aerial Recon Ltd. has been in business since 1985 and has sold hundreds of Robinson helicopters worldwide. We assist the buyer with the purchase process from start to finish.
Please contact us anytime to learn more about this helicopter or if you have any other questions relating to buying your next helicopter.
Videos
Features
Air Conditioning
Cargo Hook
Heated Pitot Tube
Fire Extinguisher
Digital Clock
7 Hole Panel
Bubble Windows
Blade Tie downs
Bose Interface
Dual Controls
Ground Handling Wheels
Floor Trays
Avionics
Artificial Horizon
Directional Gyro
Turn Coordinator
Nigh VFR CAPABLE - AH, DG, TC
BendixKing KY-196 Com
Nat 12 Audio Controller
Garmin 327 Transponder
GNC 420 GPS/Com in pilot side console
Two Comms
Technical
Specifications & Dimensions
Helicopter
R44 Raven II
Engine
Lycoming IO-540, six cylinder, fuel injected
Horsepower
Derated to 245 for takeoff and
205 continuous
Maximum Gross Weight
2500 lb (1134 kg)
Empty Weight of Standard R44 II (including oil & standard avionics)
1535 lb (683 kg)
Standard Fuel (29.5 gal)
177 lb (80 kg)
Auxiliary Fuel (17.0 gal)
102 lb (46 kg)
Pilot, Passengers, and Baggage (with standard fuel)
818 lb (371 kg)
Cruise Speed at Maximum Gross Weight
up to 109 kts (202 km/h)
Maximum Range (no reserve)
approx 300 nm (550 km)
Hover Ceiling IGE
8950 ft @ 2500 lb
Hover Ceiling OGE
7500 ft @ 2300 lb
Rate of Climb
over 1000 fpm
Maximum Operating Altitude
14,000 ft
Electrical System
28 volt
Location
Finance Calculator
What We Offer
R44 I& II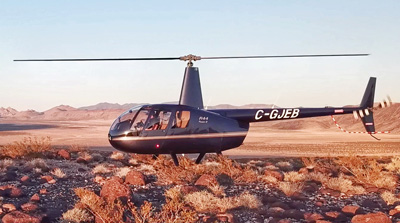 R44 Cadet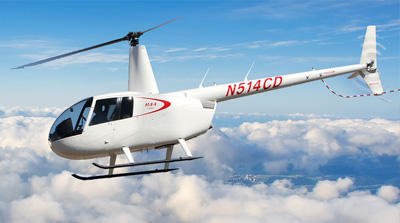 R22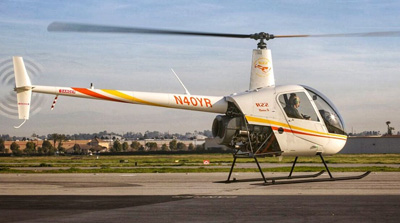 ---