2008 R44 Raven II – SOLD
$420,000 USD
Year: 2008

Manufacturer: Robinson Helicopter Company

Model: R44 Raven II

Serial Number: 12147

Total Time: 1205

Condition: Used

Location: Springbank Airport - Calgary

Engine: Lycoming IO-540, six cylinder, fuel injected

Exterior Color: Astro Paint Scheme with Red and Silver

Interior Color: Grey Leather
---
Overview
This 2008 R44 Raven II received a full 2200 hour overhaul in September of 2020 when it only has 1205 hours!  This helicopter is fresh out of overhaul and has, like new, approx. 2200 hours or 12 years until the next major overhaul.  Warranty is available on all parts that were replaced in the overhaul and will last for 1 year or 1000 hours, whichever comes first.
This helicopter is in great condition and comes with many extras that the next pilot will appreciate.  Air Conditioning is a great feature for those hot summer days and also helps with resale value.  This is a smooth flying machine and the next owner is going to receive a lot of value for the price.
Also available with this helicopter is 2 Cargo Pods that are mounted externally.  This helicopter comes equipped with a Tannis heater and winter covers that have barely been used.
This helicopter, if it were purchased new with the same options would be over $560,000 USD.  It will sell for over 140,000 USD less than new and come with the same amount of usable hours and years until the next major overhaul is due.
The overhaul was completed by the highly experienced and reputable Genesis Helicopter Services Inc.  They do more overhauls in Canada than anyone else we know of.  The R44's that we have received from Genesis are always high quality with excellent customer service.  During the overhaul, all the AD's and SB's were brought up to date.
International buyers can note that this helicopter's registration marks are decals and easily changed.  It also has ADS-B out for all Class C airspace that requires it in the USA.
Since 1985, Aerial Recon has helped hundreds of clients across the world buy and sell Robinson Helicopters.   Let our professional, friendly and trustworthy guidance help you through the buying process and support you after the purchase.  If you have any questions don't hesitate to contact us.
403-918-598 info@r44.ca
Features
Air Conditioning
2 Cargo pods with matching paint
5 Point Seat Harness (front 2 seats)
Bose Interface with 2 Bose A20 Noise cancelling Headsets included
Tannis Heating kit
Bear Paws
Trickle Charger
Floor trays
Digital Clock
Map bag between front two seats
Main Rotor blade covers with telescopic pole. No ladder required for install.
Rotor head cover.
Full winter and belly fuselage cover.
Tail rotor covers. Many of the covers were never used.
Avionics
Pilot side console with powered Garmin 796 GPS
Garmin 420 GPS/COM #2
7 Hole Panel
Artificial Horizon
Directional Gyro
Bendix King KY-196 Transceiver - COM#1
Nat 12 Audio controller
GTX 330 Transponder with ADSB-Out
Kannad 406 ELT
Technical
Specifications & Dimensions
Helicopter
R44 Raven II
Engine
Lycoming IO-540, six cylinder, fuel injected
Horsepower
Derated to 245 for takeoff and
205 continuous
Maximum Gross Weight
2500 lb (1134 kg)
RHC Standard R44 Approximate Empty Weight (including oil & standard avionics)
1505 lb (683 kg)
Standard Fuel (29.5 gal)
177 lb (80 kg)
Auxiliary Fuel (17.0 gal)
102 lb (46 kg)
Pilot, Passengers, and Baggage (with standard fuel)
818 lb (371 kg)
Cruise Speed at Maximum Gross Weight
up to 109 kts (202 km/h)
Maximum Range (no reserve)
approx 300 nm (550 km)
Hover Ceiling IGE
8950 ft @ 2500 lb
Hover Ceiling OGE
7500 ft @ 2300 lb
Rate of Climb
over 1000 fpm
Maximum Operating Altitude
14,000 ft
Electrical System
28 volt
Location
Finance Calculator
What We Offer
R44 I& II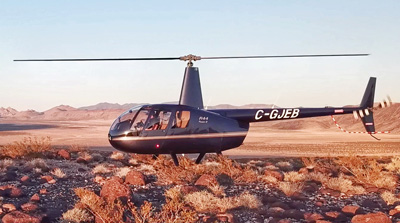 R44 Cadet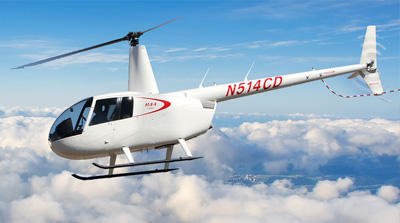 R22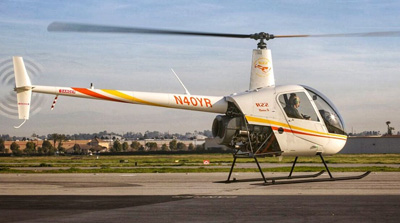 ---