2008 R44 Raven II – C-FLPT SOLD
$
Year: 2008

Manufacturer: Robinson Helicopter Company

Model: R44 Raven II

Serial Number: 12309

Total Time: 700

Condition: Used

Location: Calgary, AB, Canada

Engine: Lycoming IO-540

Exterior Color: Metallic Black and Orange Astro Paint Scheme

Interior Color: Tan Leather
---
Overview
Now available is great 2008 R44 Raven II. This helicopter has Air Conditioning which is a hot feature right now. This helicopter is loaded with many great features for your next adventure.
The helicopter has been primarily been operated out of Calgary Springbank airport and stored in a heated hangar.
This helicopter has been privately owned/operated and commercially maintained. The fuel bladders have been installed.
All AD's and SB's are up to date except for the main rotor blades(-5).
Come check out this helicopter. You will be impressed.
Features
Air Conditioning
Fire Extinguisher
Vertical Compass Card
Digital Clock
Bubble Windows
4 Bose Noise Cancelling Headsets
Bose Powered Interface
Dual Controls
Ground Handling Wheels
Blade Tie Downs
Windshield Cabin Cover
AM/FM/CD player
Avionics
7 Hole Panel
Artificial Horizon
Directional Gyro
Turn Coordinator
King KY-196 Transceiver COM
Kannad 406 ELT
Nat 12 Audio Controller
Technical
Specifications & Dimensions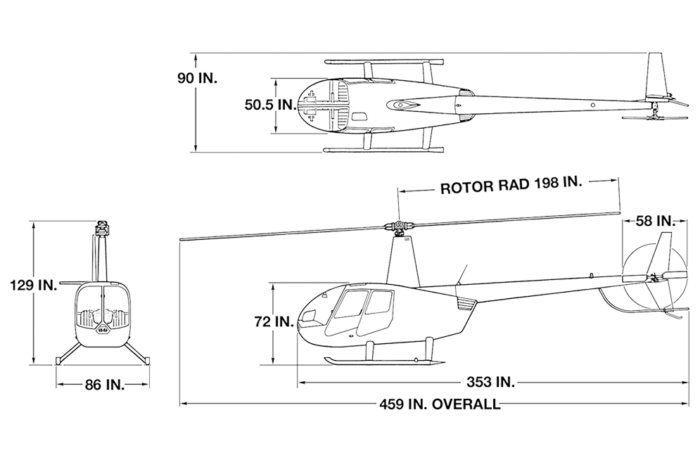 Helicopter
R44 Raven II
Engine
Lycoming IO-540, six cylinder, fuel injected
Horsepower
Derated to 245 for takeoff and
205 continuous
Maximum Gross Weight
2500 lb (1134 kg)
Empty Weight of Standard R44 II (including oil & standard avionics)
1535 lb (683 kg)
Standard Fuel (29.5 gal)
177 lb (80 kg)
Auxiliary Fuel (17.0 gal)
102 lb (46 kg)
Pilot, Passengers, and Baggage (with standard fuel)
818 lb (371 kg)
Cruise Speed at Maximum Gross Weight
up to 109 kts (202 km/h)
Maximum Range (no reserve)
approx 300 nm (550 km)
Hover Ceiling IGE
8950 ft @ 2500 lb
Hover Ceiling OGE
7500 ft @ 2300 lb
Rate of Climb
over 1000 fpm
Maximum Operating Altitude
14,000 ft
Electrical System
28 volt
Location
Finance Calculator
What We Offer
R44 I& II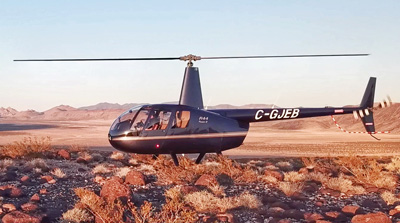 R44 Cadet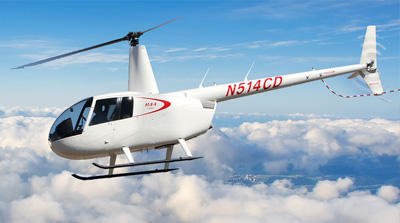 R22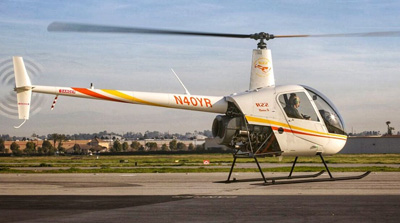 ---