2006 R44 Raven II C-FICW – SOLD
$
Year: 2006

Manufacturer: Robinson Helicopter Company

Model: R44 Raven II

Serial Number: 11255

Total Time: 1159

Condition: Used

Location: Brooks Alberta

Engine: Lycoming O-540

Exterior Color: Black Metallic Astro with Mocha Trim

Interior Color: Leather Grey
---
Overview
R44 Raven II that received the full 2200/12 year overhaul in September of 2018.   There is under 25 hours since.  Warranty is on the parts replaced for 2 years or 1000 hours, whichever comes first.  The aircraft only has a total time of just over 1160 but the owner elected to complete the full overhaul instead of the 12 year.    They replaced the windows, installed a new overhauled engine, new carpet and several other upgrades.
This is a great machine that has been well maintained and spent 99% of the nights in a hangar.
The owner is going to miss this bird, but is getting too busy with life and isn't getting to fly enough.
Features
Cargo Hook
Cargo Mirror
Heated Pitot Tube
Vertical Card Compass
9 Hole Panel
Grey Spindle Boots
Bubble Windows
Fire Extinguisher
Windshield Cabin Cover
Blade Tie downs
Bose Headsets
Bose Interface
Dual Controls
Ground Handling Wheels
Floor Trays
Tannis Heaters
First Aid Kit
Fuel bladders previously installed
Dart Cold Weather Baffles
Standard Clock
Avionics
Artificial Horizon
Directional Gyro
Turn Coordinator
Nigh VFR CAPABLE - AH, DG, TC
Garmin 150 XL in center console
BendixKing KY-196 Com
ELT - Kannad 406
AM/FM/CD player
Mode C transponder Bendix King KT 76C
Rear power dual USB power plug
Technical
Specifications & Dimensions
Helicopter
R44 Raven II
Engine
Lycoming IO-540, six cylinder, fuel injected
Horsepower
Derated to 245 for takeoff and
205 continuous
Maximum Gross Weight
2500 lb (1134 kg)
Approximate Empty Weight (including oil & standard avionics)
1505 lb (683 kg)
Standard Fuel (29.5 gal)
177 lb (80 kg)
Auxiliary Fuel (17.0 gal)
102 lb (46 kg)
Pilot, Passengers, and Baggage (with standard fuel)
818 lb (371 kg)
Cruise Speed at Maximum Gross Weight
up to 109 kts (202 km/h)
Maximum Range (no reserve)
approx 300 nm (550 km)
Hover Ceiling IGE
8950 ft @ 2500 lb
Hover Ceiling OGE
7500 ft @ 2300 lb
Rate of Climb
over 1000 fpm
Maximum Operating Altitude
14,000 ft
Electrical System
28 volt
Location
Finance Calculator
What We Offer
R44 I& II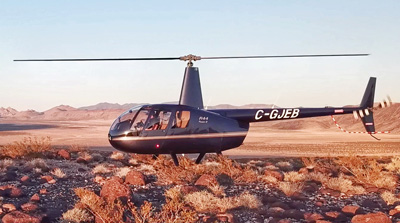 R44 Cadet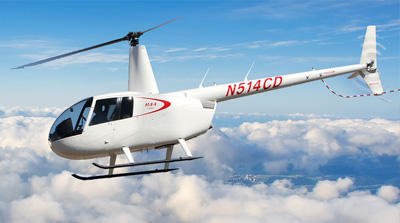 R22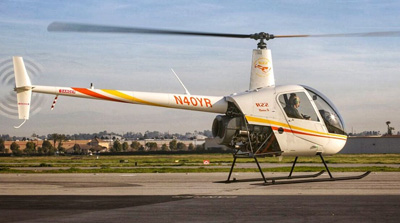 ---