2006 R44 Clipper II – Factory Overhaul (2019)
$429,000 USD
Year: 2006

Manufacturer: Robinson Helicopter Company

Model: R44 Clipper II

Serial Number: 11529

Total Time: 2150

Condition: Used

Location: Kelowna

Engine: Lycoming IO-540, six cylinder, fuel injected

Exterior Color: White(New in 2019)

Interior Color: Charcoal Leather and Cloth
---
Overview
Great R44 Clipper II that was overhauled at the Robinson Helicopter Factory in July of 2019.  New paint and interior completed at the same time as the very thorough(and expensive @ 345k USD).  During this time the aircraft was torn down with all required parts replaced and in Robinson fashion, replaced many items that they deemed necessary.  This leads to a machine that looks and flys like a new helicopter.  I can tell you after flying in it, it is running like a top.
Features that are really nice about this helicopter are that it is about 1 year and 100 hours since factory overhaul.  It has a Radar Altimeter, which has become a commercial requirement in the USA.  The pop-out floats have been redone with the overhaul.  The paint and interior are new from the overhaul so this helicopter looks, smells, and flies like new.
You get the benefits of new but at much less of a purchase price. This helicopter will still have 11 years and 2100 hours remaining.
A new helicopter equipped with the same equipment would cost over 550,000 USD.
The registration marks are decals(taped on).  This makes it easier to change for international sales or if you wish to change the registration marks.  Logos seen on aircraft are decals and easily removed as well.
Link the ADS-B to your iPad with Foreflight and see all of the ADS-traffic all around you.
Features
Factory Pop out Floats
Corrosion Protection
Paint is Robinson White as of 2019
Black registration marks- Decals/Stickers
Interior as of 2019
HID landing lights
LED strobe and Tail cone light
Fire Extinguisher
Right hand support bar with 2 USB ports
Blade Tie downs
Heated Pitot Tube
Dual Controls
Ground Handling Wheels
Avionics
Directional Gyro
Attitude Horizon with Inclinometer
Turn Co-ordinator
Garmin GTR 225B Transceiver with 8.33 Khz spacing
Garmin 345 Transponder Mode S with Bluetooth. ADS-B In & Out
ELT Kannad 406 Integra AF
Wire harness was also upgraded during the overhaul
Instantaneous Vertical Speed Indicator
Technical

Specifications & Dimensions
Helicopter
Clipper II with Pop-out floats
Engine
Lycoming IO-540, six-cylinder, fuel injected
Horsepower
Derated to 245 for takeoff and
205 continuous
Maximum Gross Weight
2500 lb (1134 kg)
Approximate Empty Weight (including oil & standard avionics)
1570 lb (683 kg)
Standard Fuel (29.5 gal)
177 lb (80 kg)
Auxiliary Fuel (17.0 gal)
102 lb (46 kg)
Pilot, Passengers, and Baggage (with standard fuel)
753 lb (371 kg)
Cruise Speed at Maximum Gross Weight
up to 106 kts (196 km/h)
Maximum Range (no reserve)
approx 300 nm (550 km)
Hover Ceiling IGE
8950 ft @ 2500 lb
Hover Ceiling OGE
7500 ft @ 2300 lb
Rate of Climb
over 1000 fpm
Maximum Operating Altitude
14,000 ft
Electrical System
28 volt
Location
Finance Calculator
What We Offer
R44 I& II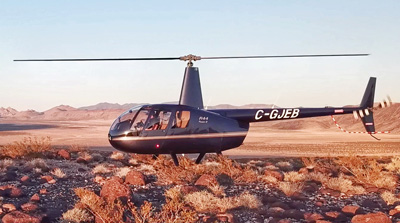 R44 Cadet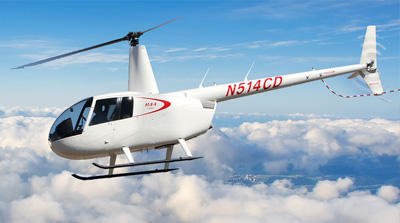 R22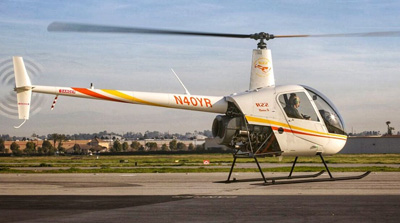 ---