2003 R44 Raven II C-FBZB- SOLD
$
Year: 2003

Manufacturer: Robinson Helicopter Company

Model: R44 Raven II

Serial Number: 10118

Total Time: 4305

Condition: Used

Location: Comox, BC, Canada

Engine: Lycoming IO-540

Exterior Color: Blue with White Trim

Interior Color: Grey Fabric
---
Overview
Price Reduced!  Now available is a great looking 2003 R44 Raven II. New carpets and headliner were installed in Sept. 2018. The annual was completed on April 30th, 2019.
The first overhaul was completed in 2010, making the 12 year due in 2022.  It is currently 95 hours away from the second overhaul.  This would be a great aircraft to get some inexpensive flying in and then look to sell the core or rebuild it and have another 12 years of 2200 hours of flying.
Note:
-5 main rotor blades
-No fuel bladders installed.
-New tail rotor blades + pitch links t installed in June of 2016 at 4078 hours.
-Full logs since new.
Features
Windshield Cabin Cover
Blade Tie Downs
David Clark Headsets
Vertical Compass Card
Digital Clock
Bubble Windows
Dual Controls
Ground Handling Wheels
Avionics
7 Hole Panel
Artificial Horizon
Garmin 150 XL GPS In Center Console
Garmin GTR 225 Com Radio
Kannad 406 ELT
Transponder KT-76 Mode C
Technisonic VHF FM Radio COM
Technical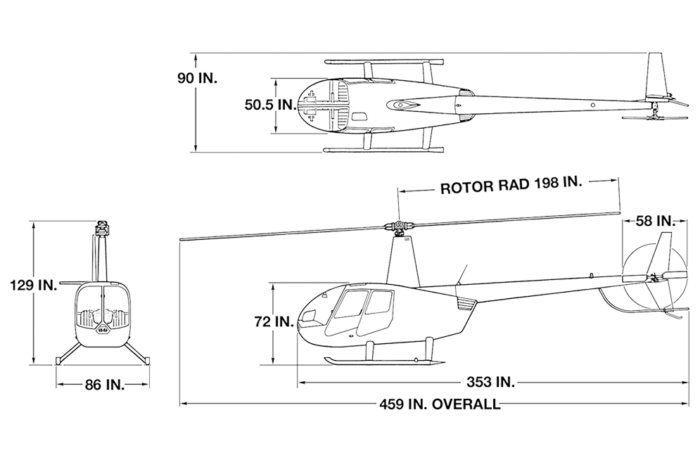 Specifications & Dimensions
Helicopter
R44 Raven II
Engine
Lycoming IO-540, six cylinder, fuel injected
Horsepower
Derated to 245 for takeoff and
205 continuous
Maximum Gross Weight
2500 lb (1134 kg)
Approximate Empty Weight (including oil & standard avionics)
1505 lb (683 kg)
Standard Fuel (29.5 gal)
177 lb (80 kg)
Auxiliary Fuel (17.0 gal)
102 lb (46 kg)
Pilot, Passengers, and Baggage (with standard fuel)
818 lb (371 kg)
Cruise Speed at Maximum Gross Weight
up to 109 kts (202 km/h)
Maximum Range (no reserve)
approx 300 nm (550 km)
Hover Ceiling IGE
8950 ft @ 2500 lb
Hover Ceiling OGE
7500 ft @ 2300 lb
Rate of Climb
over 1000 fpm
Maximum Operating Altitude
14,000 ft
Electrical System
28 volt
Location
Finance Calculator
What We Offer
R44 I& II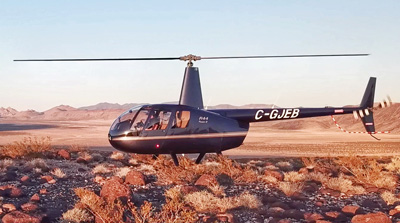 R44 Cadet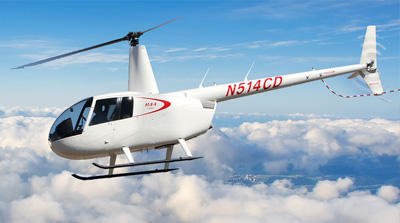 R22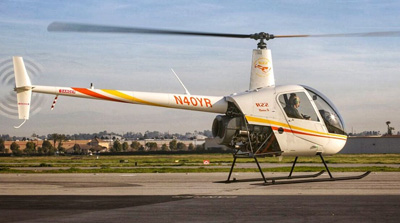 ---